The annual Parish fair of St. Engelbert – choirs and Jazz music, acrobatics, waffles, home-baked cakes, sizzling sausages, and another chance for the Dice & Mystics to say thank you to the parish for so generously allowing us to use the parish center for all our events (and for free!).
We are part of the programme each year: There are two game rounds with simultaneous gameplay at 3 tables, and at the end of each round and at each table we raffle off quality games to all participants: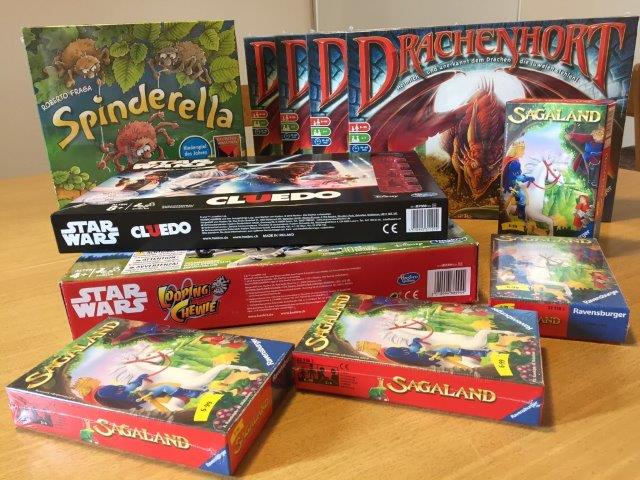 There were consolation prizes from Mini Sagaland to dice shaped pencil erasers, too.
Apart from the chance to give something back to the parish, we also see it as a chance to promote board gaming. Every time we put games for different age groups on the table: for smaller kids (Spinderella, Kinderspiel des Jahres 2015), next a family game that can be enjoyed by kids from 10 + and adults together (Rainer Knizia`s Drachenhort and also a Star Wars Clue) and finally a game that has a theme which aims more at adult players, but can be played by older children, too (Evolution).
We nearly always get children around 5 to 10 who come to play. Funny thing, that: Adults either seem to believe that board games are merely children's' toys, or they come up with statements like, "Oh, that's probably way too complicated". The first is clearly a lame excuse for not wanting to learn anything new. The latter ridicules itself when uttered in the presence of 8 year olds who, after a first brief introduction to the basics, are playing Evolution almost like they had invented the game.
It was a slow start. As usual, not a single adult in sight. But the numbers of children who come to us is slowly increasing, and they come back for more: "I am seven now!" a girl proudly announces and tell us she still likes the games she won the previous two years, and what other games she has or has played since we last saw her. She is bright, self-confident and able to outsmart our little ants with her well-planned strategic spider attacks: Happily playtesting Spinderella with us adults in the knowledge that finally she would get to take the whole box home – due to lack of competition – she has the most wonderful time. Her mom arrives, "I should have known you are here", and has to be convinced that, yes, her girl actually likes spiders now…!
A much older boy scout who also found the spider game very intriguing and had wanted to play stepped back and started off with Evolution because he thought she really ought to have the game. He is now busy feeding his primitive life form from food floating around in the water hole and selecting how to further evolve it into a more intelligent species that can prevail against the predators ready to jump onto the evolutionary ladder.
The second games round of the day saw more competition, and all tables were nearly full. Star Wars Clue was a hit, but Evolution proved even more popular, even though it was not itself up for the raffle, but Drachenhort instead.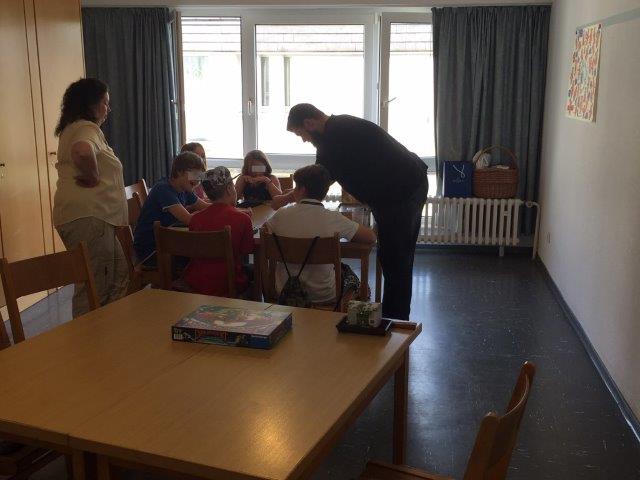 We even had to put in an extra late round for another game of Evolution. Our scout who had already secured himself one Drachenhort copy – and just failed to also get Star Wars Clue – announced that, if he should win a second one, he would give it away to one of the others.
Incidentally, someone who had left for home long before the final round was drawn, so he was then given the chance to determine another happy winner. He is planning to come to our game meetings and become our youngest member before our 15 year old.