Going to Essen and want to play?
Join us at the Dice & Mystics Fringe 2018
October 27th (from 4 p.m. until midnight)
Yes, we're doing it AGAIN! How could we not, after all the positive vibes, the fun and happiness we experienced at our previous Fringes?
You are looking for a nice and comfortable game night to round up your visit at SPIEL Essen? Then come to play with us on Saturday October 27th at our game location in Bochum, 15 Minutes by car from the SPIEL. You are very welcome at the Dice & Mystics Fringe, aka "Tiny Con."
It is free of any charge and entirely non-commercial. We just want to give our fellow board gamers a place to enjoy their new games, meet people, exchange their experiences of the fair and have fun. There is space and time to play on Saturday
from 4.00 p.m. to midnight.
However, the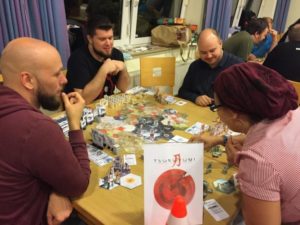 places are limited, so we do kindly ask you to contact us so that we can put you on our guest list. We can give you directions on how to find us (by car just 3 turns from the autobahn; also by public transport).                             Hotels and restaurants in the vicinity may be about the same driving distance to the SPIEL as some in Essen.
There will be the opportunity to order food and drinks on the premises; a delivery service will take orders at the tables. Teas, coffees and biscuits are free!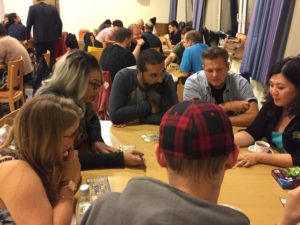 You would like to come?         Contact us by clicking here. We need your full name and home address and also the full names of any friends you want to bring along. You are going to receive a confirmation as soon as you are booked.
Registration ends on Saturday, 13.10.2018.